Saturday, September 29 2018
Now concerning spiritual gifts, brethren, I do not want you to be ignorant...
1 Corinthians 12:1
1 Corinthians goes on to describe those spiritual gifts. Why are they important? Verse 2 tells us - You know that you were Gentiles, carried away to these dumb idols, however, you were led. Therefore I make known to you that no one speaking by the Spirit of God calls Jesus accursed, and no one can say that Jesus is Lord except by the Holy Spirit.
In an hour when we are inundated with lies and deception from the very sources that should be giving us the truth, we need this gift to properly discern the voice we are hearing. If there ever was an hour we need the gifts of the Spirit it is now.
1 Corinthians 12:10 - to another the working of miracles, to another prophecy, to another discerning of spirits, to another different kinds of tongues, to another the interpretation of tongues.
The gift of discerning of spirits (distinguishing of spirits in some translations) provides perception into the spirit world - which includes the Holy Spirit, both good and evil angelic spirits, and individual human spirits. It gives supernatural insight into the realm of spirits. The gift of discerning spirits is the God-given ability or enablement to recognize the identity of the spirits which are behind different manifestations or activities.
We are seeing the rise in our nation of much perversion, immorality, and lies. It is becoming increasingly difficult to discern good and evil. If ever we needed to be sensitive to Holy Spirit to discern what is truth and what is a lie it is now. In the area of compassion, much wisdom is needed. Sometimes our greatest attribute is our greatest area of deception. We are deeply compassionate about the plight of others but that is where the enemy works to draw our affections away from the truth. Our compassion toward others must come from a place of being led by the Spirit of God and not by our emotions.
The gift of discerning of spirits is greatly needed for the times in which we live. Since not all supernatural activity comes from the Holy Spirit, sometimes it is hard to tell where it originates.
"Beloved, do not believe every spirit, but test the spirits to see whether they are from God."
-1 John 4:1
We see different categories of discernment illustrated throughout the New Testament.
Discerning Holy Spirit - John the Baptist discerned the Holy Spirit when the Spirit descended upon Jesus from heaven like a dove at His baptism. (Matthew 3:13-17)
Discerning Angels - Scripture says that an angel appeared to Jesus in the garden of Gethsemane, "strengthening Him" (Luke 22:43)
Discerning the Human Spirit - From afar, Jesus discerned a guileless spirit in Nathanael (John 1:47-48). John discerned a "spirit of faith" in a lame man in Lystra according to Acts 14:8-10.
Discerning Evil Spirits - During His earthly ministry, Jesus discerned many evil spirits manifested in various forms (Luke 13:11-13). Acts 16 reveals a story of a woman who brought her masters much profit by fortune-telling. This girl followed Paul and Silas and cried out "These men are the servants of the Most High God, who proclaim to us the way of salvation". Paul became greatly annoyed and through the discerning of spirits recognized an evil spirit in this lady and cast it out of her. Today we would have become flattered by that but Paul recognized the evil spirit behind the flattery.
The gift of discerning of spirits is not the gift of suspicion. When we discern correctly we can use wisdom in how to deal with situations that arise. As you can see, the gift of discerning of spirits has the potential to be explosive; therefore, it is crucial to use wisdom while exercising it. In every situation let the wisdom of God guide us through by discerning the real spirit behind a situation.
You can see how important it would be for us to embrace the gifts of the spirit and learn to walk in them as we move on this path of faith to reach the destiny that God has for us. Without this gift in operation, the enemy can set traps that will derail us along the way. Yes, have compassion for the plight of others but be sensitive to know when it is the Spirit of God leading you or the enemy setting a trap to get you off course. We are not called to fight every battle. Some are meant to wear you out so that there is no strength left to finish the race. The enemy tries to bring disappointment to cause us to pull back and to give up. Learn to discern through this gift the voice of the enemy and the voice of God.
"My son, let them not depart from your eyes. Keep sound wisdom and discretion; So they will be life to your soul and grace to your neck. Then you will walk safely in your way, and your foot will not stumble"
-Proverbs 3:21-23
Tuesday, September 18 2018
After the death and resurrection of Jesus we hear about Saul who in his religious zeal began pursecuting the followers of Christ. We know the story well, how Saul became Paul. Saul encountered the living Christ (Acts 9:4). Like much of our lives we were "blind" to the love of God until Holy Spirit revealed the living Christ to us. The religious structure of our day still denies the power of the cross to save, heal and prosper and are fighting against what is meant to set them free.
Paul, by divine revelation received the mystery of this dispensation of Grace. Prior to Jesus' death we lived under the law. Jesus came to fulfill that law through his death on the cross. He paid all our debt in full that the law required for our sins. We then entered into a time of His Grace. Saul became a picture of that Grace. Through unbelief he attacked the very thing that was about to set him free. He was commissoned by the Lord to reveal this mystery to the church. Paul through revelation began to reveal to the church this new dispensation of Grace. God choose Paul to be an instrument of his grace so that Paul through this revelation could reveal it to his church.
Ephesians 2:1 - And you He made alive, who were dead in trepasses and sins, in which you once walked according to the prince of power of the air, the spirit who now works in the sons of disobedience. But God, who is rich in mercy, because of His great love with which He loved us, even when we were dead in trespasses made us alive together with Christ (by grace you have been saved) and raised us up together, and made us sit together in heavenly places in Christ Jesus that in the ages to come He might show the exceeding riches of His Grace in his kindness toward us in Christ Jesus. For by grace you have been saved through faith and that of yourself it is a gift of God.
Paul begins in Ephesians by revealing to us what we have IN CHRIST. He reveals the mystery that was revealed to Him and what Grace we now walk in because of the cross. Ephesians was written to the church who was not walking in its authority and living far below its intended purpose. Paul lays out in Ephesians 3 this mystery that was revealed. What is that mystery? That through the cross God would bring together the Jew and the Gentile under the same promise. That the cross reconciled that separation and made us one. We became His body. He restored the horizontal union between Jew & Gentile to create one new man...His Body, the fulness of Him who fills all in all. The truth is revealed that the Jew & Gentile both are partakers of His promise In Christ. This dispensation of grace gathered all things together in Christ, both which are in heaven, and which are on earth.
With all things being reconciled In Christ we now can preach the unsearchable riches of Christ and to make ALL see what is the fellowship of the mystery which from the beginning of the ages has been hidden In Christ. Here....God restored the vertical union between man and God. That the purpose of His mystery was to bring together ONE new man (His Church) IN CHRIST revealing to the principalities and powers in heavenly places this mystery. Through HIS church the manifold wisdom of God is on display to the principalities and powers in heavenly places. Ephesians 2 tells us that we are seated IN CHRIST far above all principalities and powers. It would seem that we have this GRACE message all wrong. Paul clearly is telling us that the mystery revealed is the church IN CHRIST having all authority and that we are revealing the manifold wisdom of God to the principalities and powers. Colossians 2:15 tells us that Jesus on the cross disarmed principalities and powers and made a public spectacle of them, triumphing over them. That means through what Jesus did on the cross disarmed them...they no longer have any rule or reign.
So the grace that Paul is talking about in Ephsians 3 is that we as HIS church have been reconciled as one IN CHRIST and are revealing that wisdom of God to bring all things together through Jesus and making that known to the principalities and powers that keep his church anemic, sick, and weak. We have all the authority to tread upon that serpent that through deception is lying to the church that HE is still in control of this fallen world. Sadly most of the church still operates under the thought that whatever happens is meant to be and we have no control because God is soveriegn and does whatever he wants. WE as HIS church have all authoriity to rule and reign because we are seated IN CHRIST in heavenly places FAR above all principality, powers, might and dominion. Wake up CHURCH! We don't have to settle for sickness being from God. We have been reconciled IN CHRIST! We now are seated in heavenly places having authority over sickness, disease, poverty and ALL the works of the enemy that the original fall created. Stop allowing the enemy to steal, kill and destroy because we are ONE body revealing the manifold wisdom of God to these principalities and powers.

Paul reveals the mystery of the complete restoration that took place through the cross. Bringing together the Jew & Gentile under the same promise, reconciling His church back to the Father, and bringing His son and His church into complete union TO REVEAL this wisdom of God to principalities and powers.. What a beautiful picture of the restoration of ALL things In Christ.
Paul then goes on to pray that we would all be strengthened and all may understand the love of Christ and what he did for us and that we might all be filled with the fullness of God. Can you see what Christ truely did for us on the cross? Yes, through faith we are saved and will enter into heaven when we die but it is so much more than that. We are IN CHRIST...we are the fullness of God and we have ALL authority in this life NOW because we are seated IN CHRIST in heavenly places. That means it is up to us to create on earth what is in heaven. We pray that all the time. The Lord's Prayer..."on earth as it is in heaven". Do we really understand what we are praying? We have the authority to execute the plan of God on this earth and take authority over that which tries to stand in its way. It is all up to us. We now can live again in that perfect garden because he took the keys away from the enemy that Eve gave away and now it is up to us to tend to that garden and keep the serpent out of what belongs to US. God's GRACE was that even when we were sinners he sent his son to die on the cross to redeem us back to the Father and give us our positional place of authority back in the garden.
That is the message of salvation. Not just that we go to heaven...but what Jesus did reconciles us back to the Father's original plan and purpose. Jesus wants the reward of his suffering. He died to redeem all mankind. We as HIS church need to see what we walk in so that we can set other's free. We need to reconcile all of God's children back into the body of Christ...back into fellowship with the Father. We now have the ministry of reconcilitation (2 Corinthians 5:18). Restoring all things back to the Father.

Saul was persecuting the true followers of Christ because he lived under the old order (the law). It is no different today when religion keeps people in darkness because they live under a law and that law has a curse attached to it that allows people to suffer sickness, disease and poverty because they do not understand the power of the blood to redeem. We need to see Saul (religion) transformed into Paul where the light of revelation of the true gospel of Jesus Christ breaks through the lies and deception so we can see the "true Jesus". We as his church must represent the true Jesus not our religious Jesus. It is time for the light of the "revelation" to come.
Monday, September 10 2018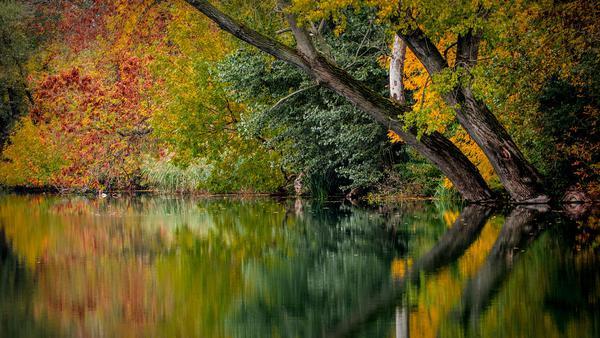 Then God said "Let us make man in Our image, according to Our likeness; let them have dominion over the fish of the sea, over the birds of the air, and over the cattle, over all the earth and over every creeping thing that creeps on the earth. Genesis 1:26
Sometimes when things look completely out of control it is good to remind ourselves of God's original intent and purpose for his people. If you don't understand the book of Genesis you will never understand the victory that is ours and all that God intended for us to have dominion over. In the beginning, GOD CREATED A PERFECT GARDEN!, he then created man to have dominion over that garden. God gave authority to Adam to tend the garden. (Genesis 2:15 - Then the Lord God took the man and put him in the garden of Eden to tend and keep it). God gave specific instructions to Adam and told him he could freely eat of everything in the garden except for the tree of knowledge of good and evil. (Genesis 2:16 - And the Lord God commanded the man, saying, "Of every tree of the garden you may freely eat: but of the tree of the knowledge of good and evil you shall not eat, for in the day that you eat of it you shall surely die."). That is some pretty specific instructions. We know the story well...we teach it to our children in Sunday School. It has become a very well versed story in the bible.. However, it is so significant to our understanding of the heart of God and his creation.
We have gotten away from the simplicity of the gospel message. We have listened to those who reason with their minds and intellect to create a powerless church who has no authority and has to accept whatever is handed to us. This is a lie! Go back to the beginning and see what God's intent was for his people. We understand that Eve became deceived by the very thing that she had authority over. Eve knew the command of God and Eve had a choice to obey the command of God. She, however, chose to reason with the enemy and through disobedience death entered. Through that act of disobedience Eve literally took the keys of authority that had been given to them by God to rule and reign in HIS garden and gave that authority to the Devil. The whole bible is a story of redemption. Where God set in motion a whole series of events to redeem that authority back to God's people. (Revelation 22:14 - Blessed are those who do His commandements, that they may have the right to the tree of life, and may enter through the gates into the city.)
The death and destruction that came through that fall has affected God's people for generations. Sickness, disease, poverty, death has reigned because of a simple act of disobedience. God in his great mercy and grace created a way for us to be redeemed from that curse that took place in the garden. Adam and Eve had a perfect relationship with the Father. We see after their act of disobedience they became afraid of God's voice. (Genesis 3:10 - So he said, "I heard Your voice in the garden, and I was afraid because I was naked and I hid"). What was a voice of love and comfort became a voice of fear. Disobedience causes us to fear. Once we have opened the door to fear...we run from the voice of God. The voice of the Father who is calling us back to himself. It is interesting God's response to Adam. "Who told you you were naked?" Have you eaten from the tree of which I commanded you that you should not eat?".
We listen to the voices around us that through their intellect and wisdom we think we hear the voice of God. Religion is a voice that speaks from a place that does not hear the voice of God anymore. Adam had a relationship with the Father and when he disobeyed he ran from that voice and hid. God dealt first with the enemy that deceived them. He then through justice rendered the punishment for their sin. Eve listened to the voice of the enemy and he deceived her...Adam listened to the voice of Eve and was deceived. One simple command from the Lord and they did not listen to HIS voice but the voice of the enemy. Sometimes the voice of the enemy will come through those we love the most. It matters who you listen to and who you hear.
God through his justice had to render punishment for that sin. However, in his grace and mercy he prepared a way for redemption. The garden was no longer in the possession of his creation. The enemy had gained the keys and became the God of this world. According to the law, blood was required for the forgiveness of sin. (Leviticus 17:11 - For the life of the flesh is in the blood, and I have given it to you upon the alter to make atonement for your soul; for it is the blood that makes atonement for the soul.)
We may never know the cost of our disobedience. God's voice speaks but we listen to the voices of those around us and it leads to sin.
Jesus became the second Adam and through his substitutionary sacrifice forever took our sins and bore them on the cross. His BLOOD paid the price and bought redemption for our sins. He then went to hell and took back the keys of death and restored the authority back to God's people. WE HAVE BEEN GIVEN THE KEYS AGAIN! We now have the authority given back to us to rule and reign in this life. However, religion continues to blind the hearts and minds of people and convince them that sickness, disease, death are all part of life and that somehow it is our lot in life to suffer. JESUS PAID IT ALL! We no longer have to bare the burden of the curse that came upon the land through Adam & Eve's disobedience. Jesus becoming the second ADAM redeemed us from the curse of the law! That included HEALING, PROSPERITY, AND SALVATION! The bible clearly tells us there is one way to access all that Jesus did on the cross for us...simply believe. We access those promises through faith. Interesting to me is people get upset when you tell them it takes faith because we don't want to accept any responsibility in our life for our choices. We want to believe that God is sovereign and does whatever he wants and we just go along with it. That is a lie and we do have a responsibility to respond to what Jesus paid for us. When you are saved...it took faith to respond to what Jesus did on the cross and receive that salvation. It is no different with healing and prosperity. Don't be the voice of unbelief in the life of someone who needs to hear what Jesus paid for them, so they might LIVE!
Religion will keep you believing that only salvation is available through the cross. Denying the power of the blood to set everything right in your life. Salvation is the first step to receiving the Kingdom of God. Jesus died...took back the keys and sat down at the right hand of the Father and according to Ephesians Paul says we were seated with him, In Christ. His blood fully redeeming us from the curse (Galatians 3:13 Christ redeemed us from the curse of the law by becoming a curse for us, for it is written: "Cursed is everyone who is hung on a tree,"). By HIS stripes we are HEALED. (Isaiah 53:4 - Surely He has borne our griefs and carried our sorrows; Yet we esteemed Him stricken, smitten by God, and afflicted. But He was wounded for our transgressions, He was bruised for our inquities; the chastisement for our peace was upon Him, and by His stripes we are healed.) But we say God can heal whom he wants and whom he does not want? Could that be the voice of the enemy and not God? He never said some would receive salvation and some would not, that it was entirely up to his sovereignty on whom he saved and whom he chose not to. NO, he said all who come to him and believe in HIM are saved. Well if the cross was threefold: salvation, healing, and prosperity...then ALL who come to Jesus and believe in his blood to save also will be healed and prosper. The lie of religion to say that only the cross can save but then tell someone that God may not heal them because they have a cross to bear is a LIE. When Jesus said "take up your cross and follow me", he did not say become sick and follow me. Jesus did not die of any disease...he died taking our sins upon him and he willingly laid his life down for us. He took those stripies upon his back for every disease known to man. He healed it ALL at the cross.
When we deny the power of the blood that was shed on the cross to HEAL then we are crucifying him all over again because we say that what he did was not good enough for us to be healed so therefore we say the cross did not do anything for us but bring salvation. Can you see the LIE of religion? It completely makes void the power of the blood to heal. We do not have to accept dead dry religion that is void of any power to change humanity. Through Jesus we have been given the authority once again over ALL the works of the enemy. Sickness and diease is a work of the enemy and is a curse of the law that Jesus redeemed.
Jesus simply tells us to believe. Believe on HIM...believe in the blood that was shed...believe that he paid our debt in full. Like Eve, we can hear the voice of the enemy and believe a lie and disobey the one commandment that was given by God or we can believe in this Jesus and that he redeemed our life on the cross. (Romans 10:9 - If you confess with your mouth that Jesus is Lord and believe in your heart that God raised him from the dead, you will be saved.)
We have many voices vying for our attention. There is only one voice that Adam heard until the serpent came to Eve. She had a choice to obey and she choose not to. There is no arguement regarding healing and the blood. Man's arguements are void of scripture because there is none to support that. We have taken away the fight of faith and replaced it with dead dry religion that comforts us in our disbelief and is void of any power to change a life.
We fight the good fight of FAITH! We have the authority given to us through the power of the blood to completely destroy every work of the enemy that is against the cross. Whose voice are you listening to?